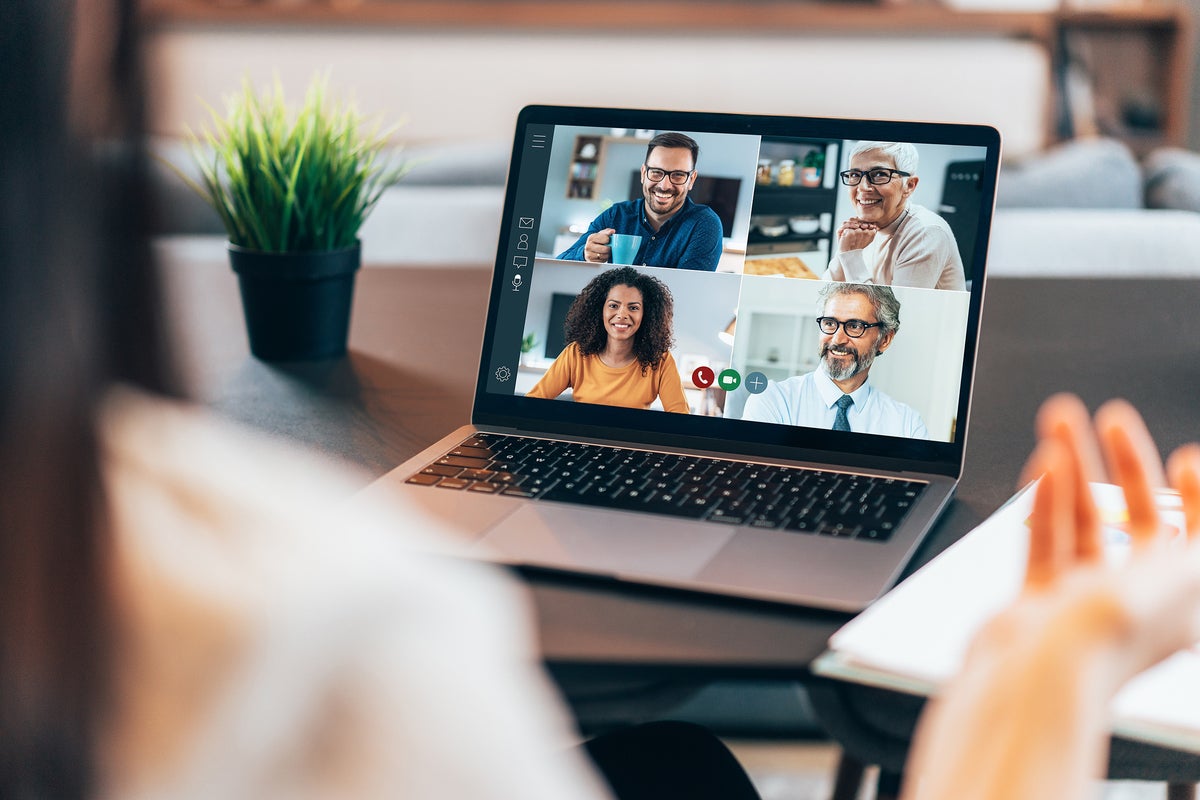 The COVID-19 pandemic forced companies to scramble to accommodate employees suddenly working from home. This required a move to cloud-based infrastructures, mobile applications and good collaboration and conferencing tools. The shift was massive for most firms. According to Statista, only 17% of workers in the United States telecommuted even a little prior to the pandemic. After the pandemic, up to 44% of people telecommuted full-time every day.
Productivity in most cases increased or stayed the same. At the same time, other factors like customer satisfaction and worker happiness surged. This has led many organizations to declare that teleworking in some form would continue, even after the pandemic is defeated.
Most likely, many organizations will settle on a hybrid workforce, where some employees come into the office every day, some telework on certain days, and some are full-time telecommuters. The trick to making a hybrid environment work effectively is having good collaboration and conferencing applications so that it doesn't matter how many workers are physically in a room at the office and how many are working from home or elsewhere. Video chat applications can bridge that gap, but only if they are reliable, easy to use and secure.
We looked at the top video chat applications to see what security features they offer organizations and their new hybrid workforces.
Zoom
Zoom starts the list of video collaboration platforms because it's one of the most popular. This was true even before the pandemic, but recent reports say the service has grown by millions of users over the past two years.
One of the reasons for the popularity of the Zoom platform is that it's so simple to use. Almost anyone can download the application for Windows, Mac, Linux, Android or iOS and begin collaborating. It remains one of the most scalable platforms on the market, allowing up to 1,000 video participants in a call, all of which can share their screens and collaborate. Each call can also accommodate up to 10,000 non-participating viewers. This enables things like press conferences, webinars, and virtual learning tools well beyond a standard one-to-one video call. Events can even be streamed to popular social media platforms like Facebook and Zoom also now supports Google Calendar for inviting participants and tracking meeting times.
In the past, Zoom was caught not having promised levels of security for calls made through the service but has since rectified that situation. Today, all calls, including any shared content, features 256-bit TLS encryption. Users can also set it so that all participants need to be verified by a human before being given access to a meeting. Zoom's two-factor authentication settings now support Time-based One-Time Password (TOTP) protocol such as Google Authenticator, Microsoft Authenticator or FreeOTP. Zoom can also send a code via SMS or a phone call as the second factor of the account authentication process.
Finally, Zoom is attractive because of the price. While businesses will probably want to invest in higher-tier plans, Zoom continues to offer nearly unlimited functionality for calls up to 40 minutes long for no charge. This gives users a chance to experiment and use the program, and then pay for an upgrade once they see how everything works.
Tauria
Relative newcomer to the video collaboration space, Tauria, offers an easy-to-use interface that is built for ultimate security and privacy. Everything in the platform is protected by 256-bit AES encryption both at rest and in transit. Keys are stored with local users, not by Tauria, so all video content remains protected, even from the company itself. The company is also forward-thinking, adding elements to its encryption that makes it resistant to being broken by quantum computers should sufficiently powerful systems ever be fully developed.
In addition to videoconferencing, Tauria supports file sharing. Users can simply drag and drop files to send them to one another through the platform. Those shared files have the same protection as the video feeds.
The platform supports up to 1,000 users and does a good job of providing ways to divide people into various work groups. The interface is extremely clean and easy to use, with most advanced features easily accessible with no need for formal training.
Google Meet
Google Meet is an interesting platform in that it was originally designed for secure business meetings but has since been re-engineered and made available for anyone to use for free. For basic functionality, it's about as easy to use as you can get. You can use your browser to visit the main Google Meet homepage and start a meeting right away.
Advanced users can go into the platform and set up groups for frequent calls, including configuring the layout of the video panels where each of the participants will reside. It has a surprising amount of functionality for a free product. You can even employ other tools like Google Drive to save the complete recordings of meetings for later review.
All the calls going through Google Meet are encrypted, and if you save that data to Google Drive, then by default it becomes encrypted as well. There is little support for the program other than an extensive library of documentation, but companies that don't mind managing their videoconferencing can find a lot to like about Google Meet beyond the price.
Microsoft Teams
Microsoft Teams is another heavyweight in this space, and it has become more popular since the pandemic started. Microsoft says that over 250 million people, businesses and schools use its platform, and the numbers are growing. Microsoft Teams is included by default on the desktop with all new Windows 11 operating systems.
A free version allows unlimited group meetings with up to 100 participants for 60 minutes, plus unlimited chat and file sharing among users. That might be enough for some businesses and workgroups, but higher tiers can increase meeting times to up to 30 hours each with up to 300 participants.
Teams makes it easy to invite people to meetings, which includes those both inside and outside an organization. Meetings can be scheduled, but it's also simple to instantly start one. Teams also includes a large amount of cloud storage with the platform (with more storage available at higher tiers of the program) so meetings and files can be recorded for later viewing. All data for every tier of the service is encrypted both in transit and at rest, including anything put into cloud storage.
Cisco Webex
Cisco is embracing the concept of the hybrid work environment and created its new Webex suite of products to address this emerging need. This includes apps for calling, driving meetings, messaging, polling, managing events and whiteboarding.
One of the most interesting apps in this suite is Webex Go, which enables business calls through the cloud on a mobile phone. It's scheduled to be widely available early next year. Go enables users to make and receive business calls using their personal mobile phone's native dialer without an app.
They instantly connect over the cellular voice network and callers see their business number, keeping their personal information private. Business calls made to local or international numbers won't cost users money since it's tied to their company and never charges or leverages their personal account. It's like cloning a business phone on their personal device without the two ever meeting.
Go works with Webex Meetings, which has also been redesigned for a hybrid environment. It now offers features like breakout sessions and custom layouts, plus some nice extras like layering a person's video image over the content they are sharing so it seems more like they are in the same room and not joining via a remote connection. It even offers real-time translation of meetings into over 100 languages, removing a longstanding barrier to international collaboration efforts.
Cisco built its business on secure communications, so it's no surprise that security is built deeply into the Webex platform. All data and files are encrypted, both at rest and while in transit. Every user must be authenticated before joining a conference. In addition to those top-level security features that run throughout the platform, Cisco also offers customized security features, like enforcing rules about file sharing and saving, to help businesses comply with the mandates and rules of their industry.
FaceTime
Facetime was designed by Apple to enable secure video conferencing calls among up to 32 people, all of which need to be on an Apple platform like an iPhone, iPad or other Apple device. It's a free application and like most Apple products, is easy to use. It also offers end-to-end encryption, so calls are as secure as possible.
Earlier this year, Apple allowed the app to be used to call users on non-Apple platforms, like Android phones, but there is still no dedicated Android app. Apple users can simply create invites that work on Android phones.
If your entire organization uses Apple devices, and you don't need meetings larger than 32 people, then FaceTime is a good choice that is easy to use and completely free.
Signal
Signal is an interesting product because it's completely open source and built for total security in videoconferencing and messaging. Everything is sent encrypted and then decrypted by a valid user on the other end of the conversation.
Privacy advocates swear by Signal, but its usefulness as a business tool is limited. It only supports one-to-one video conferencing, though you can send out group texts. It might be a nice app for C-suite executives in highly secure businesses to use to communicate with one another, but beyond that, it's simply not an enterprise product.
WhatsApp
The WhatsApp Messenger app, mostly just called WhatsApp, began as a free messaging program and voice-over-IP (VOIP) service before being acquired by Facebook (which now calls itself Meta Platforms).
The focus of WhatsApp is solidly on messaging. It can allow up to 250 people to group chat and message one another at the same time. This includes sharing files, videos, audio clips and text messages, all of which are fully encrypted from end-to-end. Videoconferencing is limited to one-on-one calling, but uses the wireless connection of the phone to place the calls over the internet, making them essentially free as long as the device is in range of a good Wi-Fi signal.
Wire
Wire was built to enable secure video and audio conferencing. Secure end-to-end encryption is built into the platform. It's always on and can't be disabled.
A lot of nice usability features are built into Wire, like the ability to create groups of people who participate in regular calls and integration with most calendar applications including Google and Outlook for scheduling. It can't support the massive number of participants that some of the biggest platforms in this arena do but does allow for up to 50 people to collaborate on a video call, or up to 100 in a purely audio-based conversation.