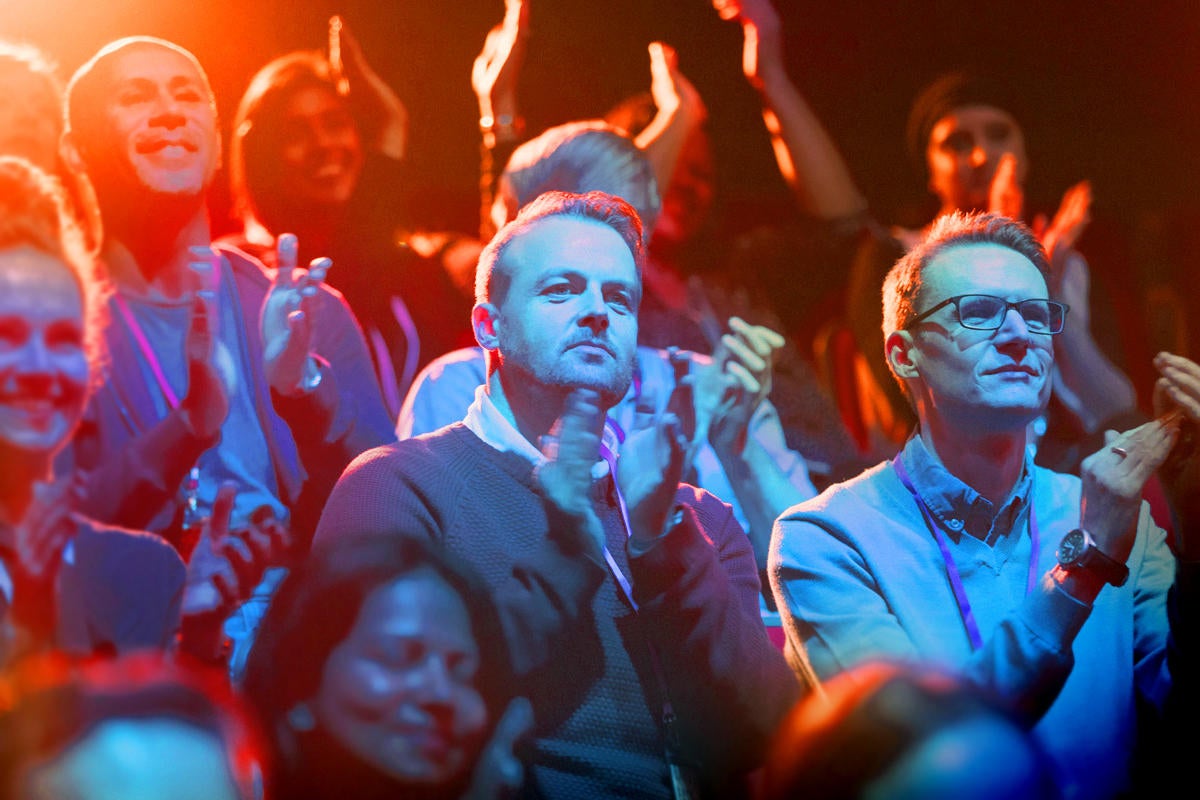 There is nothing like attending a face-to-face event for career networking and knowledge gathering, and we don't have to tell you how helpful it can be to get a hands-on demo of a new tool or to have your questions answered by experts.
Fortunately, plenty of great conferences are coming up in the months ahead.
If keeping abreast of security trends and evolving threats is critical to your job — and we know it is — then attending some top-notch security conferences is on your must-do list for 2022.
From major events to those that are more narrowly focused, this list from the editors of CSO, will help you find the security conferences that matter the most to you.
We'll keep it updated with registration deadlines and new conferences so check back often. While we don't expect this calendar to be comprehensive, we do aim to have it be highly relevant. If there's something we've missed, let us know. You can email your additions, corrections and updates to Michael Nadeau ([email protected]).
January 2022
BSidesAlgiers, Algiers, Algeria: January 8 – 9
SANS Cloud Defender 2022, Virtual: January 10 – 15
SANS Live Online Europe Vol. 1, Virtual: January 10 – 15
SANS Threat Hunting London, London, UK: January 10 – 15
FutureCon Virtual Central Conference, Virtual: January 13
SANS Security East 2022, Virtual (Eastern US): January 17 – 22
SANS Tokyo, Virtual: January 17 – 22
Dallas CyberSecurity Conference, Virtual and Dallas, Texas: January 20
SANS Stay Sharp Winter 2022, Virtual (Central US): January 24 – 26
SANS Amsterdam, Amsterdam, Netherlands: January 24 – 29
SANS Live Online Europe Vol. 2, Virtual: January 24 – 29
S4x22, Miami South Beach, Florida: January 25 – 27
Phoenix CyberSecurity Conference, Virtual and Phoenix, Arizona: January 26
BSidesPanama, Panama City, Panama: January 27 – 29
Cyber Threat Intelligence Summit & Training 2022, Virtual (Eastern US): January 27 – February 5
Cyber Threat Intelligence Summit & Training 2022, Bethesda, MD: January 27 – February 5
SANS Paris, Paris, France: January 31 – February 5
South by South East Asia, Virtual: January 31 – February 5
February 2022
BSidesSF, San Francisco, California: February 6 – 7 (tentative)
RSA Conference, Virtual and San Francisco, California: POSTPONED TO JUNE 6 – 9
SANS Live Online Europe Vol. 1, Virtual: February 7 – 12
SANS London, London, UK: February 7 – 12
SANS San Diego 2022, San Diego, California: February 7 – 12
SANS Dubai, Dubai, UAE: February 12 – 17
Ringzer0 Catch2022, Virtual: February 12 – 25
Gartner Security & Risk Management Summit, Dubai, UAE: February 14 – 15
SANS Cyber Security Mountain, Virtual (Mountain US): February 14 – 19
SANS Munich, Munich, Germany: February 14 – 19
SANS Security Leadership 2022, Virtual and Reston, Virginia: February 14 – 19
FutureCon Virtual Easter Conference, Virtual (Eastern US): February 16
IDC Security Roadshow Turkey, TBD: February 16 – 18
SecureWorld Charlotte, Charlotte, North Carolina: February 17
Munich Security Conference, Munich, Germany: February 18 – 20
SANS Cyber Security East, Virtual (Eastern US): February 21 – 26
SANS Live Online Europe Vol. 2, Virtual: February 21 – 26
Los Angeles CyberSecurity Conference, Virtual and Los Angeles, California: February 24
SANS Cyber Security Central, Virtual (Central US): February 28 – March 5
SANS Vienna, Vienna, Austria: February 28 – March 5
SANS Secure Japan, Virtual and Tokyo, Japan: February 28 – March 19
March 2022
Cloud & Cyber Security Expo, London, UK: March 2 – 3
BSides Tampa, Tampa, Florida: March 5
SANS Doha, Doha, Qatar: March 5 – 10
Gartner Security & Risk Management Summit, Virtual (India): March 7 – 8
SANS Classic 2022, Virtual (Eastern US): March 7 – 12
SANS Live Online Europe Vol. 1, Virtual: March 7 – 12
SANS London, London, UK: March 7 – 12
SANS Secure Australia 2022, Canberra, Australia: March 7 – 12
SecureWorld Boston, Boston, Massachusetts: March 9 – 10
Minneapolis CyberSecurity Conference, Virtual and Minneapolis, Minnesota: March 10
Gartner Identity & Access Management Summit, Las Vegas, Nevada: March 14 – 16
SANS Baltimore Spring 2022, Virtual and Baltimore, Maryland: March 14 – 19
SANS Cloud Security Amsterdam 2022, Amsterdam, Netherlands: March 14 – 19
SANS Cloud Security Europe Online 2022, Virtual: March 14 – 19
SANS Secure Singapore, Singapore: March 14 – 26
FutureCon Virtual Western Conference, Virtual (Western US): March 16
BSidesDublin, Dublin, Ireland: March 19
SANS Riyadh, Riyadh, Saudi Arabia: March 19 – 31
SANS Live Online Europe Vol. 2, Virtual: March 21 – 26
SANS Paris, Paris, France: March 21 – 26
SANS San Francisco Spring 2022, Virtual and San Francisco, California: March 21 – 26
SANS SOC Training 2022, Virtual (Central US):March 21 – 26
SANS Secure India 2022, Virtual: March 21 – April 2
New to Cyber Summit 2022, Virtual (Eastern US): March 23 – 24
SecureWorld Philadelphia, Philadelphia, Pennsylvania: March 23 – 24
BSidesDundee, Dundee, UK: March 26
BSidesROC, Rochester, New York: March 26
SANS Oslo, Oslo, Norway: March 28 – April 2
SANS Pen Test Austin 2022, Austin, Texas: March 28 – April 2
Baltimore CyberSecurity Conference, Virtual and Baltimore, Maryland: March 30
April 2022
BSidesNashville, Nashville, Tennessee: April 2
SANS Stay Sharp Spring 2022, Virtual (Eastern US): April 4 – 6
SANS Live Online Europe Vol. 1, Virtual: April 4 – 9
SANS London, London UK: April 4 – 9
Detroit CyberSecurity Conference, Virtual and Detroit, Michigan: April 6
SecureWorld Kansas City, Kansas City, Missouri: April 6
BSides Lisbon, Lisbon, Portugal: April 7 – 8
SANS 2022, Virtual and Orlando, Florida: April 10 – 15
BSidesSofia, Sofia, Bulgaria: April 15 – 16
Omaha CyberSecurity Conference, Virtual and Omaha, Nebraska: April 20
BSidesIowa, Des Moines, Iowa: April 23
SANS Brussels, Brussels, Belgium: April 25 – 30
SANS Cyber Security Central, Virtual (Central US): April 25 – 30
SANS Live Online Europe Vol. 2, Virtual: April 25 – 30
Newark CyberSecurity Conference, Virtual and Newark, New Jersey: April 27
BSidesCharm, Baltimore/Towson, Maryland: April 30 – May 1
May 2022
SANS Security West 2022, San Diego, California: May 5 – 10
Secure360, Prior Lake, Minnesota: May 10 – 11
Black Hat Asia 2022, Singapore: May 10 – 13
Denver CyberSecurity Conference, Virtual and Denver, Colorado: May 11
Cyber Security & Cloud Congress, Santa Clara, California: May 11 – 12
Gartner Identity & Access Management Summit, London, UK: May 12 – 13
BSidesSeattle, Seattle, Washington: May 14 – 15
Chicago CyberSecurity Conference, Virtual and Chicago, Illinois: May 18
IDC Security Roadshow Bahrain, TBD: May 18
IDC Security Roadshow Kuwait, TBD: May 23
IDC Security Roadshow Oman, TBD: May 23
SecureWorld Atlanta, Atlanta, Georgia: May 25
Raleigh CyberSecurity Conference, Virtual and Raleigh, North Carolina: May 26
June 2022
BSides Buffalo, Buffalo, New York: June 4
IDC Security Roadshow Qatar, TBD: June 6
RSA Conference, Virtual and San Francisco, California: June 6 – 9
San Diego CyberSecurity Conference, Virtual and San Diego, California: June 9
SecureWorld Government, Virtual: June 9
FutureCon Virtual Eastern Conference, Virtual: June 15
SecureWorld Chicago, Chicago, Illinois: June 15
EDPS Conference 2022, Brussels, Belgium: June 16 – 17
Gartner Security & Risk Management Summit, Sydney, Australia: June 21 – 22
Identiverse, Denver, Colorado: June 22 – 24
BSidesCairo, Cairo, Egypt: June 24 – 25
AWS Re:Inforce, Houston, Texas: June 28 – 29
Tampa CyberSecurity Conference, Virtual and Tampa, Florida: June 29
July 2022
Columbus CyberSecurity Conference, Virtual and Columbus, Ohio: July 13
BSides Brisbane, Brisbane, Australia: July 16
Indianapolis CyberSecurity Conference, Virtual and Indianapolis, Indiana: July 20
Western-July Cybersecurity Conference, Virtual (Western US): July 27
August 2022
Black Hat USA 2022, Las Vegas, Nevada: August 6 – 11
BSidesLV, Las Vegas, Nevada: August 9 – 10
Kansas City CyberSecurity Conference, Virtual and Kansas City, Missouri: August 10
Houston CyberSecurity Conference, Virtual and Houston, Texas: August 24
September 2022
Des Moines CyberSecurity Conference, Virtual and Des Moines, Iowa: September 8
SecureWorld St. Louis, St. Louis, Missouri: September 15
IDC IT Security Oslo, Oslo, Norway: September 20
IDC IT Security Brussels, Brussels, Belgium: September 21
IDC IT Security Amsterdam, Amsterdam, Netherlands: September 22
SecureWorld New York, New York, New York: September 22
IDC IT Security Stockholm, Stockholm, Sweden: September 27
IDC IT Security Helsinki, Helsinki, Finland: September 28
SecureWorld Detroit, Detroit, Michigan: September 28 – 29
IDC IT Security Copenhagen, Copenhagen, Denmark: September 29
Orange County CyberSecurity Conference, Virtual and Anaheim, California: September 21
BSidesKC, Kansas City, Missouri: September 23 – 24
BSidesCLT, Charlotte, North Carolina: September 24
Infosec World, Lake Buena Vista, Florida: September 26 – 28
October 2022
BSidesAugusta, Augusta, Georgia: October 1
Boston CyberSecurity Conference, Virtual and Boston, Massachusetts: October 5
SecureWorld Denver, Denver, Colorado: October 6
(ISC)² Security Congress, Las Vegas, Nevada: October 10 – 11
Student360, TBD: October 14
Toronto CyberSecurity Conference, Virtual and Toronto, Canada: October 19
SecureWorld Dallas, Dallas, Texas: October 20
November 2022
Nashville CyberSecurity Conference, Virtual and Nashville, Tennessee: November 2
SecureWorld Seattle, Seattle, Washington: November 9 – 10
Seattle CyberSecurity Conference, Virtual and Seattle, Washington: November 16
December 2022
St. Louis CyberSecurity Conference, Virtual and St. Louis, Missouri: December 1
Cyber Security & Cloud Expo Global, London, UK: December 1 – 2
Black Hat Europe 2022, TBD: December 5 – 8
Western-December CyberSecurity Conference, Virtual (Western US): December 7
Atlanta CyberSecurity Conference, Virtual and Atlanta, Georgia: December 14